Who is online?
In total there is
1
user online :: 0 Registered, 0 Hidden and 1 Guest
None
Most users ever online was
14
on Tue Nov 13, 2018 9:16 am

i translated a news report from some chinese website~ first time i do this type of translation =P
thanks to the Tanihara fan,blloveferrero, from baidu~
[新闻]谷原章介新片瘦身 搭档佐佐木希演绎"师生恋"
日本男星谷原章介主演的新片《天使之恋》(导演寒竹百合)将于今年秋天公映,他在片中扮演一名患上绝症的大学讲师,将与新生代女星佐佐木希扮演的女高中生上演一段"师生不伦恋"。
  谷原章介曾以模特身份出道,在去年上映的影片《帅气西装》等多部作品中,谷原都以帅气光鲜的角色成功出位。但此次他要一改往日酷男形象,扮演一名患上绝症的大学讲师,谷原透露为了配合角色,一个月时间里减掉了5公斤的赘肉。当被问及如何减肥时,平时酷爱喝酒的谷原表示每天不得不控制饮酒量,一天顶多喝一瓶啤酒,米饭之类含有碳水化合物的食物完全停止食用,取而代之的则是吃一些海藻类食品,因此成功从原来的74公斤减到现在的69公斤。
  另外,在片中谷原章介将与比自己小18岁的佐佐木希上演吻戏镜头,谷原表示俩人的吻戏并不是成人式的激情热吻,而是如蜻蜓点水般的象征一吻,因此拍摄过程还算顺利。但他坦言与年龄差距如此悬殊的女演员搭档,演绎爱情戏还是头一次,对他演技上是一大挑战。
---translation:
[News] Tanihara Shosuke purposely lose weight for his new movie, in which he is starring together with Nozomi Sakai.
Japanese actor Tanihara Shosuke will play a lead role in the new movie "Tenshi no Koi" (english tranlation is "Angel's Love") , which will release in fall 2009, in the movie he will play the role of a university's professor who have terminal illness. Sasaki will play as Tanihara's student and fall in love with him.
Tanihara debuted as a model and starred in many works and also in the movie "Handsome Suit" last year. This time, in order to suite the role of a professor with terminal illness, he lose 5 kg in one month. When asked of how he lose weight, Tanihara said that he has to limit the intake of his favorite alcohol to one bottle per day and stopped eating any food that contains carbohydrate; in exchange, he switched to eat seaweed or food that belongs to the same class. This how he successfully decreased his body weight from 74kg to 69kg.
Also, Tanihara and Sakai will have a kissing scene in the movie. Sakai is 18 years younger than Tanihara. Tanihara said that this is the first time he co-star with an actor with this big age gap in a romantic movie, which is a big challenge to his acting skill.
Tenshi no Koi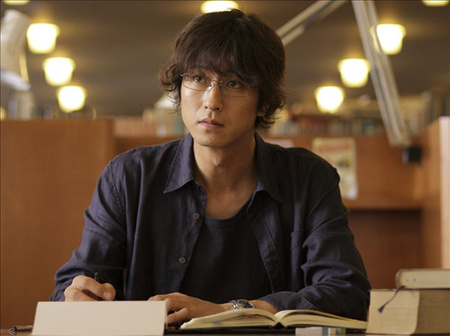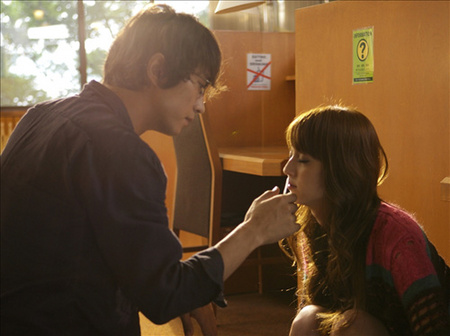 Posts

: 8


Reputation

: 0


Join date

: 2009-06-19






Posts

: 2


Reputation

: 0


Join date

: 2009-07-21



Thank you Kome!!!
The plot of this movie sounds so so so romantic!!! and very sad at the same time!! I´m looking forward seeing it!! Thank you again!!!

Admin




Posts

: 36


Reputation

: 0


Join date

: 2009-05-28


Age

: 40


Location

: Spain





Similar topics
---
Permissions in this forum:
You
cannot
reply to topics in this forum